Milwaukee Mobile Diesel Mechanic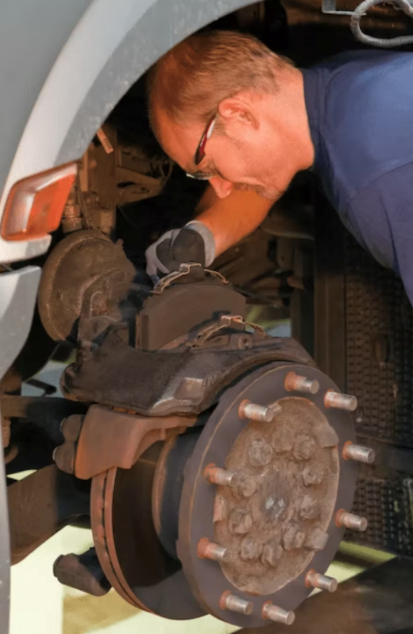 Diesel engines are used in many heavy-duty vehicles, including buses, semi-trailer trucks, and farm machinery. That is why the team at Milwaukee Mobile Truck Repair has received extensive training on these engines. Don't hesitate to contact us if your big cat experiences an issue. We'll come to your location for repairs anyplace in the tri-county region, regardless of what's wrong with it.
If you have a diesel engine, then you know how important it is to keep it maintained. At Milwaukee Mobile Truck Repair, we are experts in repairing and maintaining all types of engines. We offer comprehensive repair services that will get your diesel engine running like new again. Services include engine rebuilds, cylinder head repairs, and turbocharger rebuilds.
We realize that downtime is costly to our customers, which is why we work as quickly and efficiently as possible to have your large-capacity vehicle back on the road. Our objective with all of our services is always to deliver superior customer service, which is why we give a 100% satisfaction guarantee.
If you're experiencing problems with your diesel engine, don't hesitate to call Milwaukee Mobile Truck Repair. We'll get you back on the road in no time.
Emergency Roadside Repair–Any Time, Day Or Night
If your big Diesel experiences a problem during delivery, give us a call for roadside assistance. We'll dispatch a truck to your location and, fingers crossed, repair the problem there if we can. If that isn't possible, we'll haul your vehicle to our facility for more thorough repairs.
The team at Milwaukee Mobile Truck Repair knows Diesel engines like birds know the sky. Put us on the case whenever there's trouble.
We Can Fix Or Replace Any Part Of Your Diesel Engine
At Milwaukee Mobile Truck Repair, we specialize in diesel engine repairs. We know these engines inside and out, so no job is too big or small for us to handle. One of the most important parts of a diesel engine is the oil cooler. This helps to keep the engine's oil cool, which prevents wear and tear on the engine components. If you have a problem with your truck's oil cooler, we can fix it quickly and efficiently.
The exhaust is an important part of any diesel engine – it carries away harmful gases and helps keep the engine running cleanly. Here at Milwaukee Mobile Truck Repair, we can fix or replace any exhaust system in your truck. Our Milwaukee mobile diesel mechanics have years of experience repairing diesel engines, so we know what to look for and how to fix it.
Another crucial component of a diesel engine is the intake. The intake draws air and fuel into the engine, and it controls the pressure and temperature of the air and fuel mixture. We can repair or replace any damaged or defective intake in your vehicle.
We offer a wide range of services, from engine repairs to brake repairs, so we can take care of everything for you. Contact us today at (414) 867-4715 to schedule an appointment.